His All-Holiness Ecumenical Patriarch Bartholomew, His Eminence Archbishop Elpidophoros and members of the Official Delegation were welcomed at Georgetown University by President Dr. John J. De Gioia and Cardinal Wilton Gregory and received a tour of Copley Crypt by Archon Michael Psaros. They also attended a dinner with Greek Americans and Philhellenes at Dahlgren Quad on the Campus.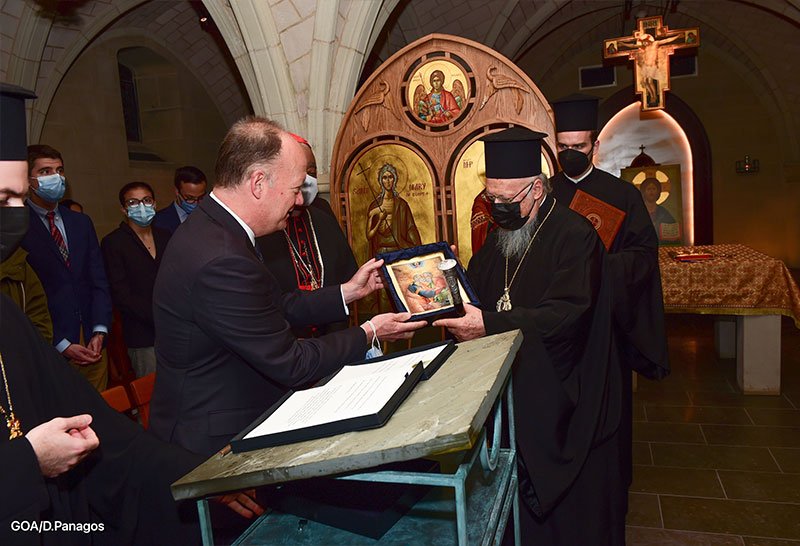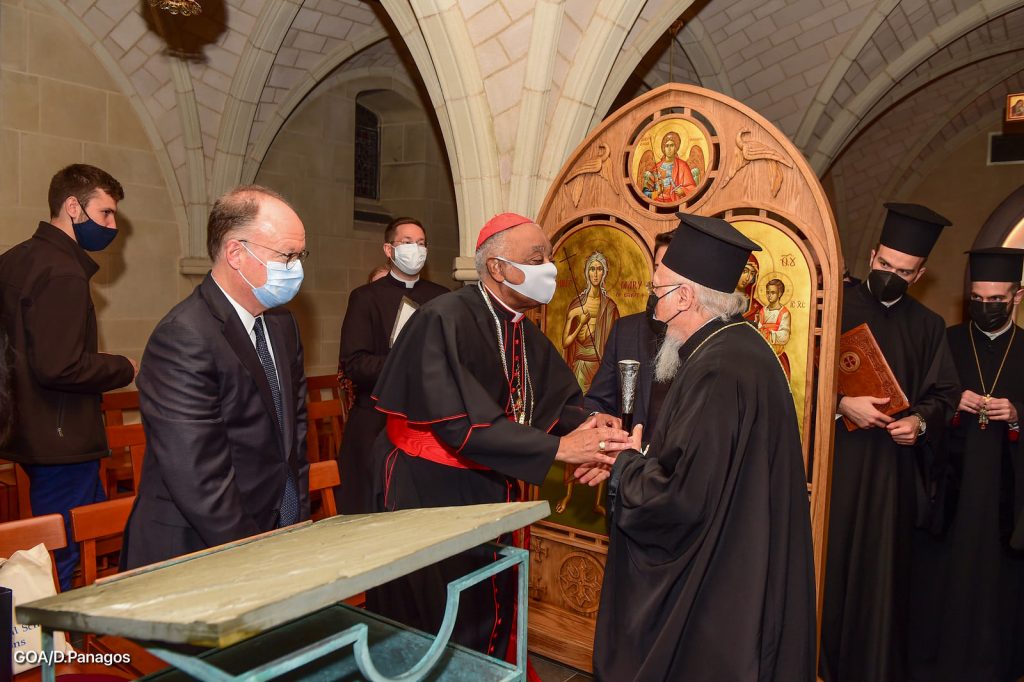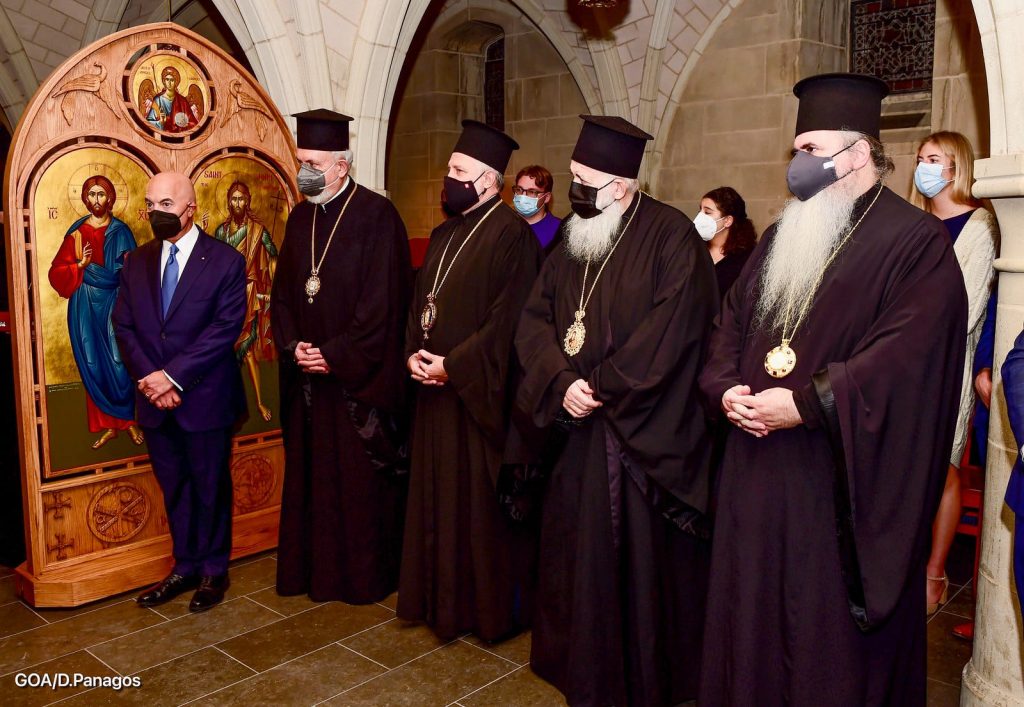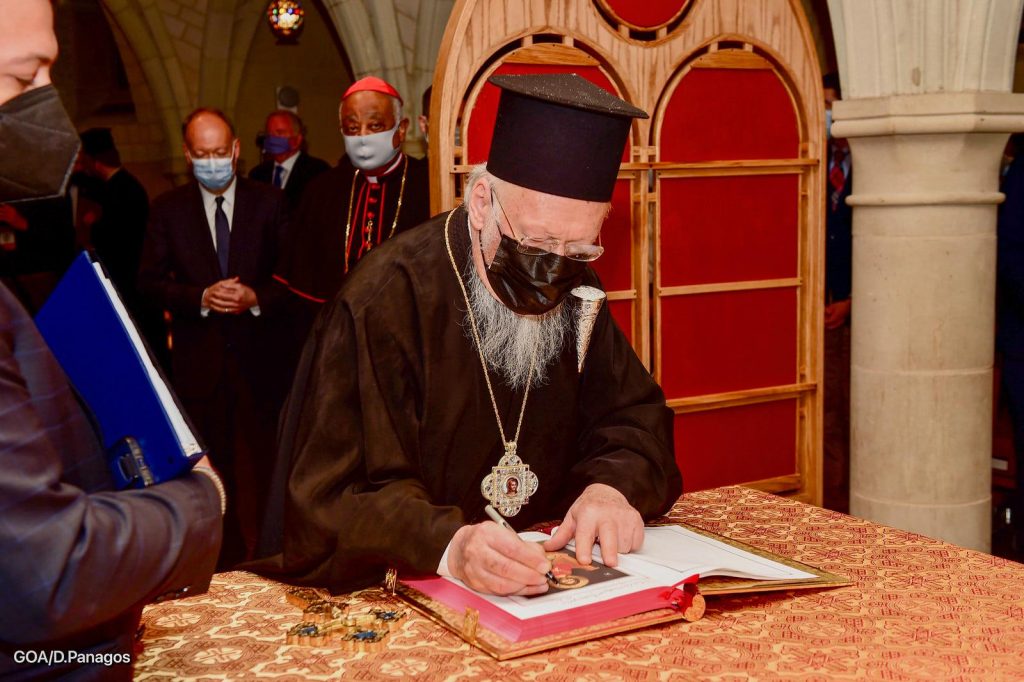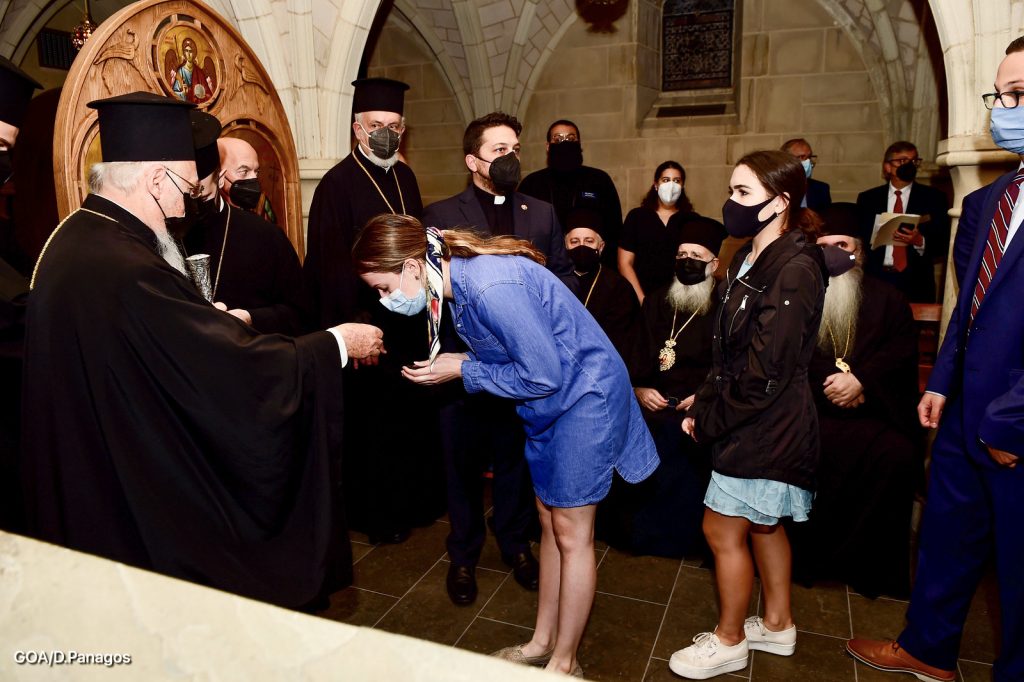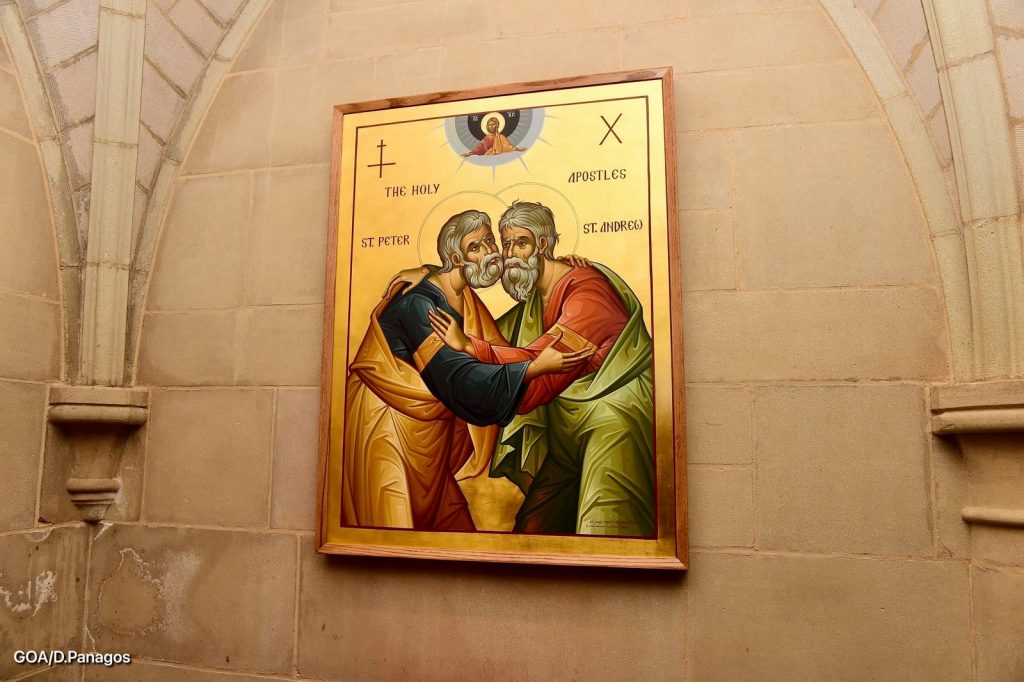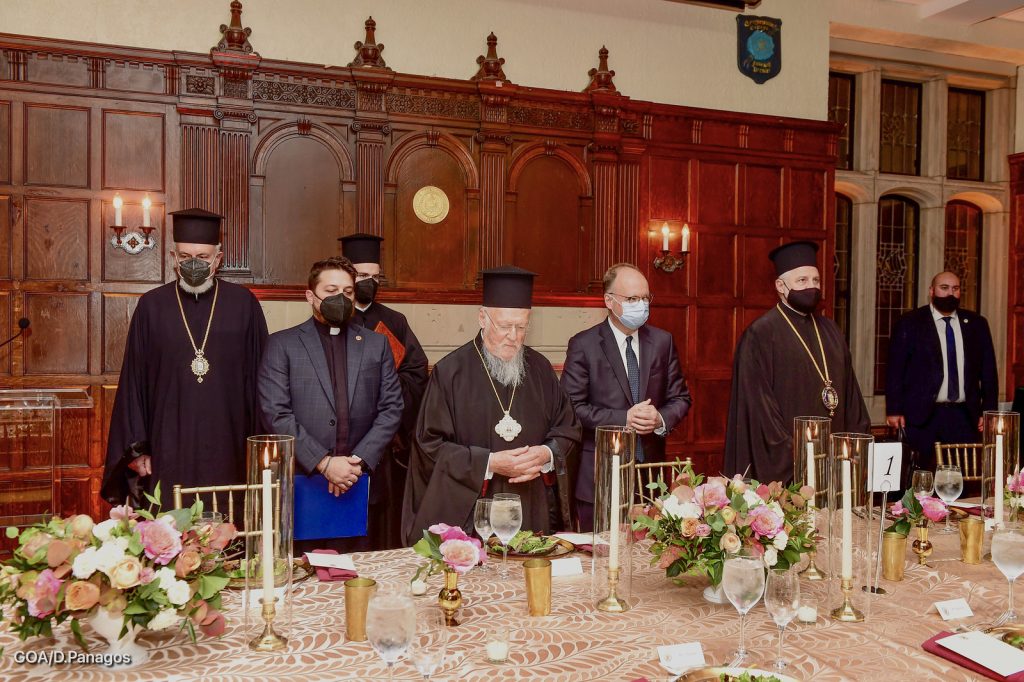 Washington, DC
October 25, 2021
* * *
Dear President DeGioia,
Your Eminence Cardinal Gregory,
Your Eminence Archbishop Elpidophoros,
Honored Guests,
Dear Friends,
We return to the renown Georgetown University for the third time, and for you, dear President DeGioia, for the second time in your longest serving tenure as the leader of this remarkable institution.
We were particularly pleased by our visit to Copley Crypt and the magnificent iconography that has been installed to create an Orthodox Christian Chapel space on Campus. We are very grateful to the University and to the Psaros family for this augmentation to the spiritual life of Georgetown.
Our prior visits to Georgetown, as you may know, were in 1997 on our first Patriarchal Visit to America, and in 2009. On both occasions, we had the opportunity to address your academic community on important ecumenical and social issues. In 1997, we were honored by the conferment of an honorary doctorate, and we feel a special connection to this marvelous institution.
Tonight, we would like to add a heartfelt expression of our appreciation for Georgetown, and its ongoing role in the intellectual and indeed spiritual formation of so many. And we know that there is now an extremely significant establishment of a Chair named in our honor by our beloved Psaros family. Please allow us to take this opportunity in order to publicly express our deep gratitude to Archon Michael Psaros and his family for their dedication and commitment to the promotion of the sacred mission of the Ecumenical Patriarchate. This new Chair will in the years to come provide ongoing energy to our ecumenical work of reconciliation and mutual understanding.
And this is because Georgetown is more than a foundational and exemplary academic institution. Georgetown is a microcosm of the world and how we choose to interpret it.
From afar, we have observed with keen interest how you have addressed issues of injustice in your own past, particularly as they related to the sad story of American slavery. We have admired how you have been, not only willing to confront this painful legacy, but you have addressed it with redress in the present moment. This shows great courage and spiritual capacity, something that your students see and in which they find inspiration.
We express our approbation of, and blessing for such bravery, because you have shown a way forward that many cannot find.
The past is never completely behind us, and if we are going to advance in freedom and in pursuit of righteousness, we must deal with the strata that lie beneath us, on which our edifices are built, whether they are of ethnic or national interests, of religious, of societal, or of academic. This is not re-writing the past. It is righting the past.
As an example, all of Christianity – Catholic, Orthodox, and Protestants – have had to confront issues of anti-Semitism and past sins against our Jewish brothers and sisters. We have found a way forward out of the morass of the past by honesty and truth-telling. You have done this with great determination here at Georgetown, and you deserve the praise and thanks of all.
Dear Friends,
Our Ecumenical Patriarchate is committed to the same honesty and truth-telling, even when it is unwelcome by worldly powers.
For all of the years of our Patriarchy – now at its Thirtieth Anniversary by the grace and mercy of God – we have advocated fiercely for environmental justice and responsibility. There have been those who have not been able to grasp the connection between Creator, Creation, and the human person as the mediating steward, as the priest of creation. Our ecological advocacy and witness is not an ephemeral exercise. The entire life of the Church is a calling to ecological awareness. It is mandated by the Gospel, which commands us to be "faithful and wise stewards" of all with which God has entrusted us.[*] In this sense, the ecological initiatives of the Ecumenical Patriarchate are not merely a reaction to the contemporary environmental crisis, but they constitute a vital expression of the core identity and ethos of the ecclesial event.
Therefore, in the spirit of the evening, we express to you, President DeGioia and the company here present, our honest and truthful respect for Georgetown and all that you represent.
We lift our glass to your prosperity, health, and the health of all, that we may ever live our lives with conviction of the truth, and with open hearts to God and our fellow human beings.
May the Lord bless us all!
---
[*] Cf. Luke 12:42.