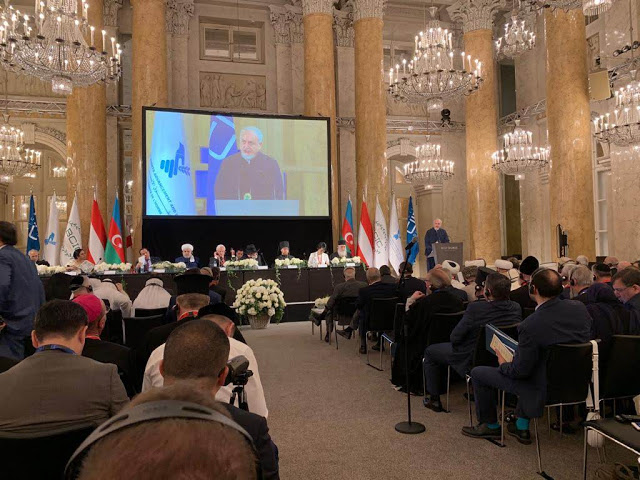 Στο Διαθρησκειακό Συνέδριο με θέμα «Από τη Διαθρησκειακή και Διαπολιτισμική Συνεργασία στην Ανθρώπινη Αλληλεγγύη», μίλησε ο Σεβασμιώτατος Μητροπολίτης Γαλλίας κ. Εμμανουήλ σήμερα το πρωί.
Το συνέδριο πραγματοποιείται στην πρωτεύουσα της Αυστρίας από τον Ηγέτη των Μουσουλμάνων του Καυκάσου, Σεΐχη Allaahshukur Padhazade.
Συνδιοργανωτές είναι ο Διαθρησκευτικός Οργανισμός KAICIID, του οποίου μέλος του Διοικητικού Συμβουλίου είναι ο Μητροπολίτης Γαλλίας, η Πρεσβεία του Αζερμπαϊτζάν στην Αυστρία, το Κέντρο Ανθρωπίνων Δικαιωμάτων Γενεύης και το Διεθνές Διαθρησκευτικό και Διαπολιτισμικό Κέντρο του Μπακού.
Η Εισήγηση του Σεβασμιωτάτου Μητροπολίτου Γαλλίας κ. Εμμανουήλ
From Interfaith and Inter-Civilizational Cooperation to Human Solidarity
His Eminence, Metropolitan Emmanuel of France
June 19, 2019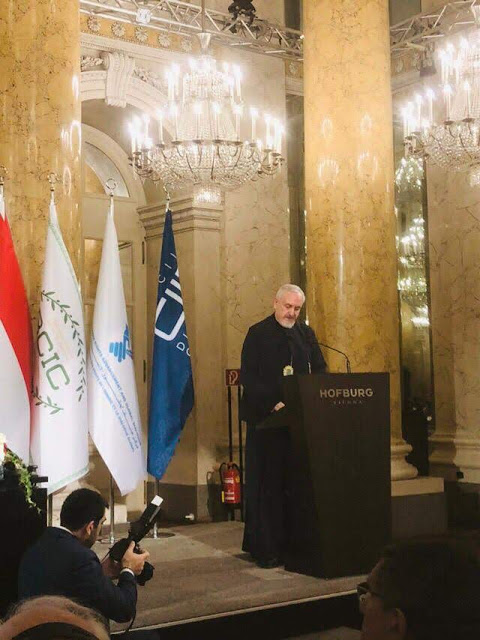 Distinguished participants,
Honorable guests,
Ladies and Gentlemen,
On behalf of the Ecumenical Patriarchate and as a Board member of KAICIID Dialogue Center, I would like to congratulate Your Virtye Pasazsade on the occasion of the International Conference, "From Interfaith and Inter-Civilizational Cooperation to Human Solidarity."
Fear has spread worldwide. Insecurity has become the only certainty for young people today. Uncertainty is in every mind and every heart. Terrorism, wars and conflicts are a constant reality. Terrorist attacks happen everywhere: from Paris to Istanbul, from US to New Zeland and beyond. Unfortunately, terrorists use religious fundamentalism not only to inspire massive bloodshed, but also to inspire fear. However, the only fear that religion should ever generate is a godly one. As the book of Proverbs says: "The fear of God is the beginning of wisdom, and there is good understanding in all who practice it." (Pr 1: 8) Fanatics and terrorists despise wisdom and God's commandments. They may claim to believe in God, but they do not know wisdom nor do they live a virtuous life. Consequently, they do not truly believe in God. Terrorism, extremism, separatism, anti-Semitism and xenophobia are a threat to religion and to interreligious cooperation.
Thus, the improvement of interfaith and cross-civilizational cooperation to human solidarity should serve the promotion of peace in the world. Peace is the only hope for the future. Peace is identical to freedom. Faith can bear the lack of liberty because it is based on the mystery of freedom. There is no freedom without solidarity. Solidarity goes beyond tolerance, because it is inspired by love. It is the very experience of what the French philosopher Regis Debray calls: "a moment of brotherhood" (un instant fraternité). When we embrace and welcome 'the other' with genuine concern and love – as if 'the other' is our very own neighbor – we have laid the foundation of solidarity as the recognition of a shared dignity.
The role of cross-civilizational and interfaith cooperation should enlighten the younger generations to the perspective of the preservation of cultural and spiritual heritage. Indeed, the humanitarian crisis that we face today, which has forced migrants to flee from wars and other threats towards Europe should be a priority, not only for the European Union or the Middle East, but for the international community as a whole. We must work together to fight terrorism. For in addition to the tragic, often fatal, reality of the people who participate in illegal immigration, criminal networks make fortunes out of the misfortune of the most vulnerable. This is unbearable. Different solutions have been proposed, including initiatives to improve the development of countries that are the source of such immigration. This, however, is a long process that also requires strong action against the violence that all too often accompanies such operations, as well as the management of national borders. Thus, our perspective on migration issues should not be limited to Europe's borders, but should be open to the full spectrum of action in the interests of greater efficiency. Interfaith cooperation should be part of our approach to this urgent issue. Responding to the challenge of migration will require responsibility, collective action, support and assistance for refugees, cooperation with the countries involved, tackling the causes of the wars which cause migration, creating and implementing development policies and ensuring peace. This is the only way we can serve refugees and migrants who are exposed to racial and religious intolerance, aggression and even ethnic cleansing.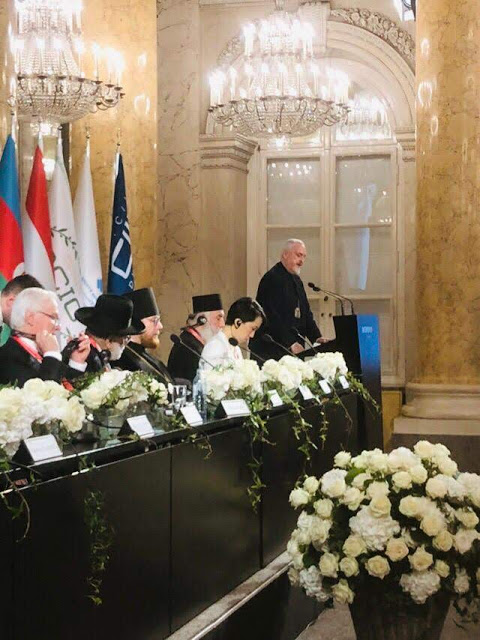 Solidarity, as a social virtue, applies to so many different aspects of today's crisis. There should be a solidarity in the preservation of our cultural heritage and monuments, such as those destroyed in zones of conflict like Syria and Iraq.
Considering how religion can promote social inclusion and justice highlights another commitment that we should pursue. We cannot separate our concern for human dignity, human rights or social justice from our concern for ecological preservation and sustainability. These concerns are closely linked. If we value each individual made in the image of God, and if we value every particle of God's creation, then we must also care for each other and our world. The ecological problem of pollution is invariably connected to the social problem of poverty; and so all ecological activity is ultimately measured and properly judged by its impact and effect upon other people, and especially the poor.
Ladies and Gentlemen,
Allow me to share with you this quote from the Encyclical issued by the Holy and Great Council of the Orthodox Church convened in Crete in June 2016: "Honest interfaith dialogue contributes to the development of mutual trust and to the promotion of peace and reconciliation. The Church strives to make "the peace from on high" more tangibly felt on earth. True peace is not achieved by force of arms, but only through love that "does not seek its own" (1 Cor 13.5). The oil of faith must be used to soothe and heal the wounds of others, not to rekindle new fires of hatred." (par.17)
We, as religious leaders, have the mission, through our intensive cooperation along with state, science and religious leaders, to promote at a local and international level the human dignity, which we consider as being the very image of God and to oppose extremism by reaffirming the bond of love that makes humankind one family under God's care.