September 29, 2023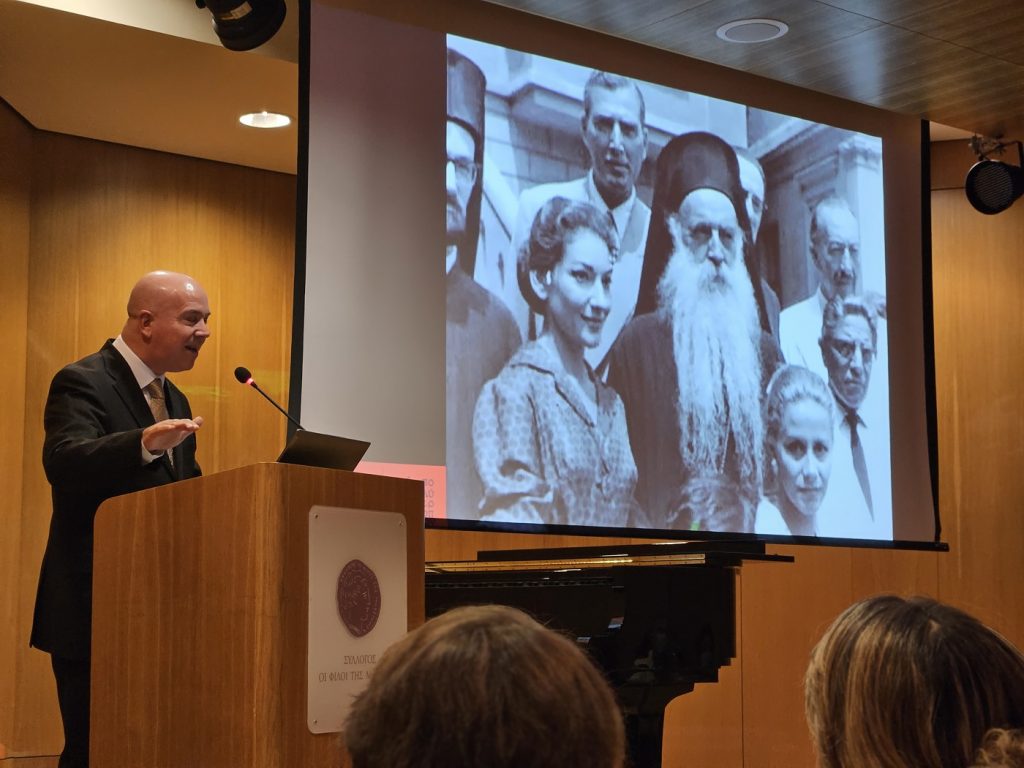 ATHENS – The year 2023 is dedicated worldwide to Maria Callas, marking the 100th anniversary of her birth (December 2, 1923).
The Artistic Ensemble 'Polytropon', led by Panagiotis Ant. Andriopoulos, presented an original production titled 'Maria Callas in Istanbul' on Monday, September 18, 2023, at the Education Hall of the Music Library of the Association 'Friends of Music' in the Megaron Athens Concert Hall.
Panagiotis Ant. Andriopoulos spoke about Maria Callas's presence in Constantinople in 1959, on the occasion of the cruise organized by Aristotle Onassis, her visit to the Ecumenical Patriarchate during the time of Patriarch Athenagoras, and the lasting impact of that visit on the city. Furthermore, the speaker mentioned the history of Maria Callas's piano, which is currently in the Museum of Pera, and her passage through Constantinople in 1969 on her way to Cappadocia for the filming of Pier Paolo Pasolini's film 'Medea'.
Andriopoulos emphasized that "the myth of Callas remains alive, as her high art continues to influence opera in the 21st century, while aspects of her personality and private life continue to be subjects of research by journalists, writers, and artists."
Soprano Daphne Panourgiá sang arias from operas and other works that Maria Callas uniquely interpreted, including: 'Ave Maria' (Bach/Gounod), Cavatina 'Quel guardo il cavaliere' (Don Pasquale – Gaetano Donizetti)
'Ombra Leggera' (Dinorah – Giacomo Meyerbeer), 'O mio babbino caro' (Gianni Schicchi – Giacomo Puccini), and 'Una voce poco fa' (Il barbiere de Siviglia – Gioachino Rossini).
Admission was free. The contributors to the event 'Maria Callas in Istanbul' were: Panagiotis Andriopoulos, Marios Kazas, and Daphne Panourgiá.
Marios Kazas performed on the piano.
In addition to the music, letters from Maria Callas to important figures were read.
Artwork, video, and photos were by Ioannis-Porfirios Kapodistrias – Production by the Artistic Ensemble 'Polytropon'.
About the Artistic Ensemble 'Polytropon':
Founded in 2004 by theologian and musician Panagiotis Ant. Andriopoulos, it presents original productions in Greece and abroad, mainly based on Greek poetry and music. Some of their productions include works inspired by the youth anthology of Ecumenical Patriarch Bartholomew, the poems of C.P. Cavafy, sacred poetry, the musical work of Eva Palmer-Sikelianou, Gustav Mahler, Manos Hadjidakis, and more. They have performed their productions in various cities in Greece, Cyprus, Germany, Constantinople and around the world.
It's worth noting that Panagiotis Andriopoulos is the head of the 'Fos Fanariou' Agency for Ecclesiastical News.